Monday ended up working out to be the day the Smith family could get together to celebrate! Actually, we did that last year too! We did gifts first thing!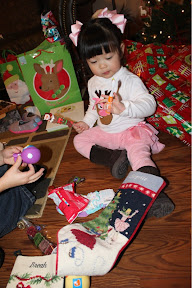 It was fun because it is Sophie and Greer's first Christmas with us! They had their very own stockings all ready!
Grammy has everyone a stocking!
I decided that everyone was on the edge of uncooperative picture taking behavior so I gathered our family up really quickly mid present opening!! :)
Greer sat with his cousin Breah for quite a while!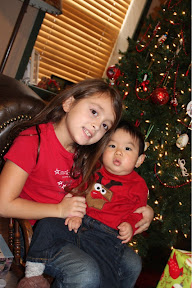 Greer and Harrison got a slide and also some $$ to put towards something more!! woah! Our kids were blessed this Christmas!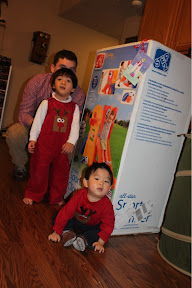 Sophie got a dollhouse!
and we actually got a really great family photo! Brandon's grandparents and great grandmother came into town and we were so glad to get to spend time with them and for them to meet the twins!
We had such a blessed Christmas weekend extended through Monday!!