This picture tells you how much better our week has been ;)
And other good things this week...
This is my 3rd year going through the devotional Jesus Calling and I still feel like each day was written just for me ;)
This little guy is a bright ray of SONshine!!A
Playdate with our buddies to the Discovery Center...
Whoopsy, a nose bleed...
We found Brodie's sister there!!
I have a new Thursday helper in Rachel!
She is home schooled and has a time slot open on Thursday's and her mom offered for her to spend a few hours with me each Thursday! I said, "hmmm let me think about it......YES!!!" This week was her first week and we had a blast! So thankful for the offer! I told her it was a crash course in Home Ec, no electronic baby necessary! (do they still do that?!)
We played with daddy at work...
Greer followed directions and put the star in the cup...
We had great weather and pushed nap time back in order to enjoy it!!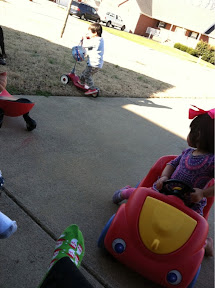 And tomorrow is Harrison and his buddy Bates' joint birthday party!! We set up today and it is going to be great and is so cute!!! All 5 of our kids were troopers while we did it too!!! Here is to the trend continuing this week!!