Every car ride, at least two of our three are holding hands!! It makes me smile...every.time!
Sophie is certainly 150% a mommies girl!
And she is an expert at hard to get!!
I have found that afternoon bath times are awesome!! It keeps these 3 in one place and happy for 30-45 minutes! It breaks up the time between naps and Daddy getting home. It also makes for one less thing on the to-do list once daddy is home!
Sophie is warming up to daddy slowly but surely!! We are also being a little more "pushy" about it. We have been pleased with her response.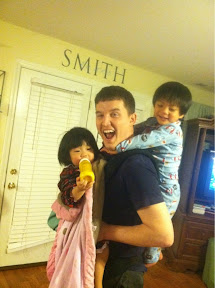 She even let him rock her to sleep without crying once last week!
The kiddos waiting with me for an oil change!
Today, my mom and I took Greer to Vanderbilt for a swallow study.
He did so well !! The radiologist and speech pathologist just loved him( most people do!)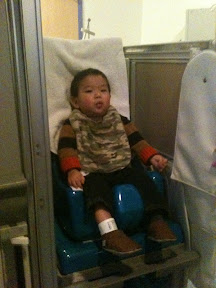 We already guessed this, but the study confirmed that Greer needs feeding therapy. The study will give the therapist a place to start. Greer needs some help chewing. We are also thankful that the test confirmed he is not aspirating which was a huge concern of mine.
This video will show you Greer sitting up taller, stronger, and longer.
This is Sophie copying me dipping grilled cheese in tomato soup and loving it!!