Christmas morning, Sophie woke up first! She was a tad grumpy while we tended to the other two and getting all ready in the living room (Mama's hip was temporarily unavailable) She quickly perked up!!
Greer got a little pouty because Sissy was crying!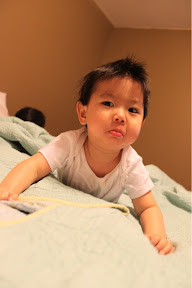 Harrison was just thrilled to know Santa had been!!
When we released them into the living room, they ran in to find...Harrison's gifts...
Greer's gifts...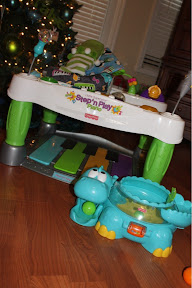 Sophie's gifts... You'll notice we put together the crib from her aunt and Greer's busy ball dinosaur thing that he got from MeMe and Papa and put those out too!!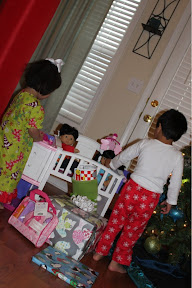 When deciding how to do Christmas, we decided to stick with something the kids want, need, can wear and can read! This year, we actually skipped one or two of those items for the kids just because they don't know yet and we would have just been buying something to buy something at this point!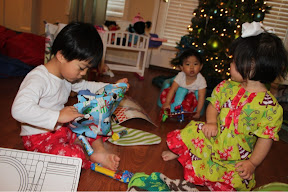 I found a snow suit and rain boots at Carters 70% off and thought Sophie needed the snow suit for very possible snow play in the future and the snow boots were something she could wear and they could be work in the snow and in the rain :)
Greer definitely needed the Oh The PlacesYou'll Go book!!
Harrison has outgrown his Superman shirt and Greer wears it now. He gets so upset because he doesn't have one! He does now!!
Sophie seems to know a thing or two about caring for twins :)
This book was perfect for Sophie. She is pretty anxious about me leaving her. This is a great book!! We read it each night before bed!
and the morning wouldn't have been complete without a fit from Harrison too :)
I made some monkey bread muffins before church!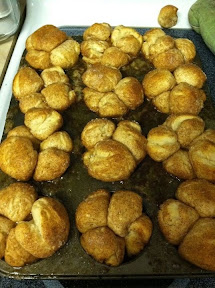 Sophie fell asleep on the way to church. The morning of Christmas fun must have worn her out!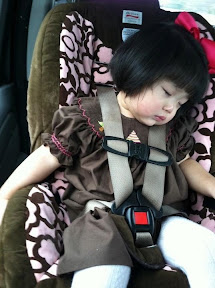 We made it through church with the help of M&M's, goldfish, and juice. There was no childcare Christmas Sunday and we definitely see the benefit of having childcare all the other Sundays :)
It was a wonderful morning! We were on the fence about going out out to my parents after church, but decided to go ahead! We figured the kids would have all the next week to be at home with their gifts and such! It is still so hard to believe we are now celebrating these special times as a family of 5 and we are certainly so thankful!