We have been to the Andrew Peterson Behold the Lamb of God concert 3 out of the last 5 years!! We have only missed it twice due to not being ready to leave our new arrivals! In 2009 that was our sweet Harrison and this year, the twins of course. We wanted our great friends, Pam and Eric, to be able to experience it. They kept Harrison a good amount of the time we were in Korea and worked just as hard as we did to help us get the twins home... Not to mention all the other amazing things they have done and continue to do for and with our family!! I always say they are our families angel!!! So, since we aren't quite ready to leave the twins, we put together an evening for them to be able to go and enjoy. This included keeping 2 of their 3 boys. John Will had a birthday party. Well, I wasn't gonna let everybody sit around and watch tv all night so I found a F.A.B.U.L.O.U.S sugar recipe on Pinterest.
I like soft sugar cookies and this recipe did not disappoint. It was truly one of the best homemade recipes I've tasted! You can find it here.... http://peppermintplum.blogspot.com/2011/03/thick-soft-sugar-cookies.html
And with 5 kids(3 toddlers) pizza and cookies consumed the evening! We had dinner...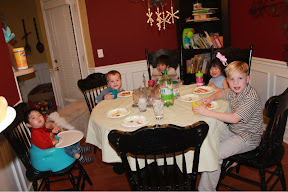 There was great potential for Anderson to feel awkward because he was much older than the littles... I just gave him the big jobs like recipe reader and mixer man!!
My little sugar babies!!
Anderson also got the hang of rolling out and flouring the dough.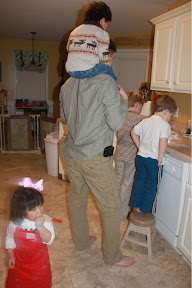 My little velcro baby ( totally took that from another adoptive mama recently home) eventually wanted to ride while I worked ( the pans were cool)!
I noticed an empty spot on the cooling rack a few minutes later. I will let you guess who was guilty...
The kids got to decorate... To eat or play... Always a hard decision!
Everyone did a little of both!
Greer was all about this!
Then he smooched and smashed!!
Sophie finally decided to go all sprinkles all the way!!
Anderson helped me finish the big batch while the littles bathed!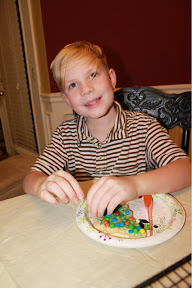 We sent them to work with Brandon and I hear they were a hit! All thanks to Pinterest and several pairs of willing hands! It was a great night!! The kids have had runny noses and coughs without fevers for several days. We have stayed at home until today. They seem to be getting a little better each day!!
Location:Pizza and Cookies with Company.