Where did we leave off?! Probably with our 3 little monkeys huh? I love pictures of babies freshly bathed and in their jammies! I especially L.O.V.E when the picture is of our children in matching or coordinating PJ's or outfits :) I have to say, it is hard work matching three of mixed gender!! I love bold, bright, & girly things for Sophie and I like stripes and solids for the boys in more masculine colors!! I've just decided to do what I can when I can!
Harrison is at preschool on Mon. & Wed. Wednesday, the twins and I spent a lot of time on the floor playing. Greer continues to do a little more each day. Wednesday was the first day he would hold himself in this sitting position for long periods of time. He'd lay down and rest and then push himself back up. You can tell he has a lot of "want to" it just takes all he has to make his body follow through!
Sophie loves the play kitchen and technology.
Harrison spent the afternoon after preschool with his Wednesday afternoon sitter. Normally, Wednesday's are my all day work days at the church and Mrs.Holly gets Harrison after preschool and does something fun with him and then brings him to the church at 5. Even though I am at home for a few months, I know he could use a breather from Sophie and some special one on one time. I am only able to give it to him during naps and after the twins go to bed because Sophie isn't having any part of me being out of range when she is awake. I tried to take Harrison out for ice cream earlier this week, but she flipped. I am being sensitive to that right now. She has hardly (from all outward appearances and actions) grieved the loss of all that she left in Korea and I am choosing to believe that her mommy zone radar and her aggression towards Harrison are the primary ways she is processing and dealing with the transition.
I had Brandon take a picture of me with our kiddos before bath Wednesday night. I love love love being a mommy to 3!
Sophie seems to like what she wants when she wants it (hey! who doesn't?) She is learning (quickly) some signs to use instead of whines and crys and the occasional tantrum(I can normally bring her back to "center" before she gets too crazy) Harrison has taught her the fine art of catching the refrigerator without the child lock on. They love snack, breakfast, snack, lunch, snack, dinner, snack time :)
I keep Greer out and on this blanket a lot so he can be free to move should he feel the urge! Sophie and Harrison enjoyed some Mickey Mouse with him the other day! Both Sophie and Harrison adore Greer.
Friday afternoon marked SEVEN, 7 , SEVEN yes, 7 WHOLE days in the house for myself and the twins. I am not exaggerating when I say I am positive that is a record for me. I think many adoptive families do that for months. My goal with staying home was to figure out a schedule and get a little more familiar with everybody. I was confident Friday that their sleeping and eating habits were pretty consistent. If we thought staying in longer was needed, we were willing, but I am thanking the good Lord it seems the twins are doing really well and taking that as my ticket to outings here and there. Friday night, we went to eat dinner, find some tights for Sophie(she needs some in every color...sheesh) and then to get ice cream. It was a perfect first outing because all the places were in one outdoor mall 3 miles from our house. I know that many people who have a handful of small children choose not to do many things because of that....but that's not us! If we are going to have a buncha kids, we are going to do the things we enjoy...with our buncha kids in tow! Of course, we'll keep in mind their nap, feeding, bath, and bedtime schedules. We were pretty flexible regarding those things with Harrison, but that is certainly one thing we're tightening the reigns on now that we have 3! Here are the kids after I got them all loaded.
I'll be honest and say this may have been the most logistically complicated thing yet. There were several factors, but I learned a few things. I didn't have the car in the garage and it was dark. The two kids that are totally capable of walking didn't want to in the dark. I need to put Greer in the middle and separate the two that are still weeding the hate out of their love/hate relationship! and I didn't have the stroller loaded and didn't have the garage door opener so I had to go through the house and yada yada..all in all, I bet it took me a good 20 minutes to get everybody loaded....and then I needed to go back in and reapply my deodorant! Just teasing!! We were going to meet Brandon at work and leave from there. As soon as I pulled out he pulled in our street...I could have waited 20 minutes and had reinforcement had I known he didn't get the text...oh well, good practice run! But then...it was so worth it, when we got the restaurant and had our sweet trio seated at the table!! They were awesome! We were happy to be back in the outside world!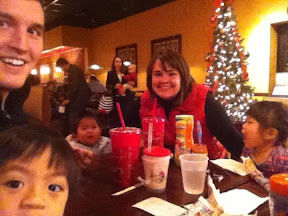 Brandon and Harrison went back out to the car and got the stroller and we took a stroll! Sophie was thrilled...she was randomly screaming with joy as we were on our way.
We found some leggings and then we strolled right into our favorite frozen yogurt shop.
It was a great treat!
We headed back home and everyone crashed hard and fast except Mama!! I had this monster to tame...I had kept up with washing and drying but that was it.
This morning, we had our friends over. I offered The Brown family breakfast and a play date so that Nick would help Brandon put up the hand me down swingset we were blessed with. MaryLeigh,the kids and I had a BLAST playing together while the men worked.
They got about 70% of the way done (this is just the beginning) and Brandon hopes to finish the rest this week!
We did the group shot right before the Browns left to go home and nap...and you can tell it!! LOL! The kids were over this idea.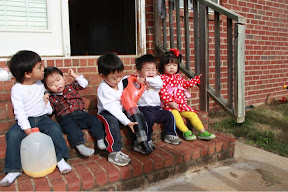 We napped and then needed to go the grocery. We met friends at the Mexican restaurant close to Publix and had dinner before going to the grocery. It was a late afternoon decision and we didn't regret it. Look..they were leaning towards the LOVE portion of their love/hate relationship on the way. Sophie looked huge in this picture...she had several layers on.
Here we are. Pretty sure this is our mandatory restaurant set-up! One kiddo on the end and us on the sides with the other ones beside us. Works well!
The boys kept the kids entertained too!!
Awwww a family photo in the Mexican restaurant lobby!! Just call us classy!
The boys stayed in the car while Sophie and I turbo-shopped!
We came home for a bath and then we sat in the kitchen floor and had our pre-bedtime yogurt & goldfish snack. Oh, and Sophie likes to chew on her bottle too :) She waits to drink it until she is laying down though.
We all pile in the bed and do story/song/prayer/life verse time!! For now, Sophie and I sleep together and the boys sleep together. Last night, Greer joined Sophie and I. It's kinda like musical beds for now and depends on how and when everyone falls asleep as to who ends up where. We have a master plan that we are going to begin implementing this week though.
Harrison always gets extra awake time and He likes it!
Everyone wants to know how we're REALLY doing and this is IT! Better than we could have hoped. We are going with the flow...which has been our game plan all along. We have been abundantly blessed with happy and easy going children who SLEEP and for the most part, AT THE SAME TIME! I keep telling everybody...that gets us a 75 out of 100 on the family transition score card right there!! I'll break it down for you kid by kid and category by category:
Harrison:
Reaction- He is an AWESOME big brother. We praise him so much and so often for his "big brother gestures" that he will do things now and say out loud, before we can even react, "awwwwww" or "so sweet" or "good brother." He isn't as bothered by sharing our attention as he is his things, because as far as Sophie is concerned...they are her things. He is also very sensitive...more so than usual. We expected this and are trying to be a little more patient with it. He has also started telling us "no" and "I don't want to" and THAT.DOESNT.FLY here...so we are having to stay on him about obeying and saying "yes ma'am"
Sleep- He gets up the earliest. We never realized how LOUD he was until we got home from Korea. We are still trying to help him understand how to lower his voice or to be quiet on demand. In the mornings, he gets up (between 7:30-8:30) and hangs out with me until the twins get up. At nap time, I get him situated on the couch until the twins are asleep and then I spend a few minutes with him before putting him down. He seems to be a little more wired since the twins came home and it takes him a little longer than usual to wind down.
Sophie
Reaction- We expected her to have a hard transition, but have been pleasantly surprised. She has attached to me pronto. As long as I am around...she has all the confidence in the world regarding her new and forever family situation. That does bring up a concern, she is still consistently rejecting Brandon. They are certainly taking baby steps, but as we begin to venture out some, we are keeping her close and asking others to resist (although, it's very hard WE KNOW) holding, meeting needs, and showing affection to her. The last thing we want is for her to get so busy meeting new people and being the social butterfly that she is, that we don't promote the bond that needs to be made between her and us FIRST. (although she's pretty much made it clear that she and I are like white on rice) What we want to see happen, is for Sophie to look to Brandon as well as myself for her affirmation, affection, and meeting of her needs. She also attempted to try and "get her way" with a friend who was over when I was already clear on what her options were. The friend just ignored her (at my request) and I redirected her, but we are going to have to watch her closely and affirm to her that we are here to love and guide her first.
The only other area of concern and probably the hardest issue for myself and Harrison is Sophie's aggression towards him. She can go from sweet to sour in SECONDS! She hits, tackles, BITES, pinches(especially on the face) pushes, and throws things at Harrison all.the.time. She will even seek him out to do it...it isn't just when he is in her space. It has gotten tiny bits better each day, but I have to stay on top of them...I can't always and that is normally when it happens. While I am understanding with her having to warm up to Brandon, I have ZERO tolerance for this behavior...and she can raise her hand up to hit or open up her mouth to bite and she'll catch my eye and then go in for a hug instead. SHE KNOWS!
She also bites when she is excited. She bit me on the face the other night when she was laughing and hugging me and then at bedtime the other night we were all snuggled up reading a story and she leaned right in and took a chunk out of Harrison's back.
Sleep-both babies nap from around 1-3:30 and we put them down for the night between 8-9. We will try and move that up a little soon. 7:30-8. I can't take any pats on the back for this one. They really just did this from day 1. I am wondering if their lack of sleep on the flights home was a good thing. We got home from the airport about 2pm...ate quickly, napped, and went back to bed around 9 that night...and the trend has continued. All we can do is say Thank You Jesus!
Eating- She is GREAT eater. She will eat most of what we eat. She also still takes naptime and bedtime bottles. At night, she'd take 4 if we let her. We have gotten her down to one when she is going down and another if she wakes. It is common in Korea for babies to be on bottles until around 2. We plan to keep the bottles a bit longer.
Greer-
Reaction- the first few days were truly tough for Greer. Even though he had tummy issues, we also believe he grieved harder than Sophie. I am pretty sure he went into shock and just shut down. I will admit, that I was pretty nervous the first day. We were very aware that he had developmental delays, but when he wouldn't eat what they sent and told us to feed him(and it seemed like he couldn't) and he was very upset, we couldn't determine if it was his delays or his grieving. We just couldn't be sure that we were meeting his needs adequately. Every day, he does a little more and shows us his personality and we have the hang of meeting his needs. He still kind of freezes up for new people, so we just keep him close! I am going to do an entire post giving more details and sharing our plan of action for him tomorrow. We are very aware that many are curious about the size difference between he and Sophie and his abilities. If you haven't asked us, you've asked those closest to us and if you haven't asked anyone, you've wondered to yourselves. We don't ever want anyone to just be left to form their own opinions or nervous around us and him. Greer is our son, we love him, he has some obstacles to overcome. We and Greer need you guys to be a part of helping/praying/cheering him to his fullest potential. He deserves parents, family, friends, and prayer warriors to fight for and with him. We were aware that's what we were signing up for, we just didn't (and still don't) know to what degree. but God is more concerned with our families calling than our comfort and even though we knew some of the initial parts of this would be uncomfortable...we have accepted it and are ready to navigate it! Greer gives high fives, laughs at his brother and sister all day, loves to eat and sleep and brightens up when someone takes the time to notice him!! I've noticed some peoples tendencies are to avoid noticing him and focus on Sophie and Harrison. We hope to be able to find ways to bridge that gap.
Sleeping- same as his sister! EXCEPT, about every other night, he will wake up between 10-11 for a 30min-1hr party!! I am up anyway we cuddle or he plays and then I put him to back to bed. It is the funniest and sweetest time. He seems to be very attentive and the most interactive at this time too!! It is actually good quality time so I am not sure that I am going to try and nip it just yet!!
Eating- he has some feeding issues. As a result, his food has to be about the consistency of stage 3 baby food. We started out with baby food and bottles, and we still supplement with baby food here and there, but I have made it a point to help him to eat some, all, or close to what we're eating. He LOVES it!! I am excited about getting to a feeding therapist so I can get some professional tips and opinions. Right now, I am just going with my mama gut!
Brandon is doing great! He has gone back to work and when he comes home, he jumps right in. The discussion around him going back to work so soon revolved around his efforts of trying his best to get home early (4:15) and him making the time to go to some important doctors appointments with us. We do all of our evening routine together. I am fine at home with everyone during the day although last week, I had help getting Harrison to and from preschool and we haven't done any errands yet. This next week, we will do a few and then each week we'll gradually get used to a normal routine again. The days when Harrison's at preschool have been rejuvenating. It's so sad to say, since he is not the one who makes it hard when he is at home, but it's just nice not to have to put on my referee hat for a few hours and it helps me to have more focused bonding time with the twins....not to mention it gives our sweet Harrison a break from the Sophinator. We are setting up initial consultations for Greer this month and hope to be getting therapies and some more concrete guidance on where he is and where he is going in January. The twins will have their thorough exams with Vanderbilt International Adoption Clinic a week from Monday. Moving right along!
As for me, I was made for this! I love our kids, I love my husband, I love our home, I love our families, I love our friends.....I love our life. I wasn't naive going into this...I knew there would be x3 diapers to change, more food to prepare, more hugs and kisses to share, more whines and crys to respond to, less me time, special needs to discover and tackle, lots of questions said and unsaid to navigate, a new family dynamic to figure out, sleep lost (although, I have to say again how thankful I am that it is nothing close to as bad as we were expecting) and on and on and on! There are a few frustrating moments where I am learning to balance defending my first baby and lovingly guiding one of my new ones...but it is what it is....and we will get there. Every family in a transition eventually finds their new normal...in different ways and with different timing...I'd say that this Smith family is well on their way! We have MUCH to praise GOD for!
I've hesitated to write this post because we are only one week in. We have a long way to go....but so many are curious and I want to record where we are at because it won't be long before I can look back and see how far we have come! We are excited and blessed by what the Lord is doing in and through our family! We thank you for supporting and praying for our family!