For sometime now, It has been a yearly tradition to attend our churches Candlelight Service
on Christmas Eve. My side of the family joins us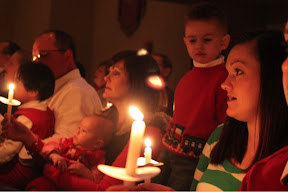 and afterwards, we go to someone in the families house (varies from year to year) and have finger foods, desserts,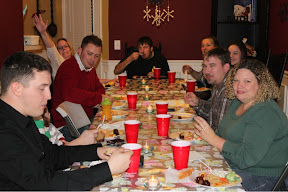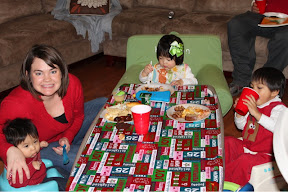 and presents.
This year, our house was a good choice so that we could have the kids in their familiar environment with all of the craziness!
It worked out pretty well! and we are pretty sure they agree :)
These gifts were a result of each child being drawn by one family and getting a $30 gift....and then MeMe and Papa bought each child a gift or two! The adults did not exchange gifts in order to keep it scaled back...this picture doesn't really look scaled back does it?! lol! I can tell you though...the kids have LOOooooved every one of these gifts and they have all been played with!! Wow, we are blessed!! and we need to add a room on :) We still had Santa and The Smith family Christmas to go!! A few more pictures from the evening...
Sophie seemed to know her way around ripping a present open!
Harrison LOVED this puppy dog game!
Greer got pretty excited about his little play table! We asked for toys that would encourage him to sit up and work on cause and affect!
Mom and Dad exchanged some presents!
Tuff was so quiet all night...he must have loved his stuff. He loved the kids play kitchen too. We kept finding him in there saying..."I cooking"
Sophie and Tuff watching out the front door (that still has our welcome back sign on it)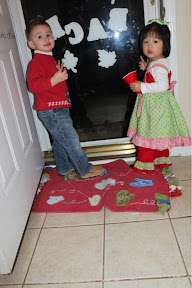 We didn't get a good family photo but I liked this action shot!
Harrison showing Daddy his skills!! He can so do these little puzzles and it is great for the minimum 1 hour of table time we try and do around here!! You know, the kind where I can strap the kids into their highchairs, they learn a little, play a litte, and are separated a lot :) It is the most peaceful time of our day!!
Greer was proud of Harrison.
My sisters and I with our Aunt Melissa! We missed Bree and Ada!
We all really missed Nana this year. She was always the one to put this on and there are several special touches we all tried to keep going even with Nana being gone. We know she was there in spirit!!!
We still had our own little Christmas Eve traditions to do as a family! We got started just after everyone left!