We continued our Christmas Eve festivities long after everyone left. Grammy sewed all the kids matching/coordinating jammies for Christmas. We got the kiddies all gussied up and broke some out in serious sweat getting this picure...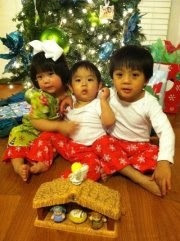 After we got our jammies on, we set out cookies for Santa. The kids didn't quite get that Santa might want his own cookies and milk...not the kind that they have already gotten into :) It was hilarious trying to pull them away after taking this photo.
Then, we read our Christmas in the Manger book and set each piece of the manger out as we read.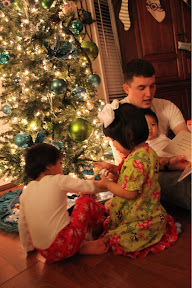 We have played with the Manger dozens of times over the last few weeks. We have also read the book many times so the kids were ready to go!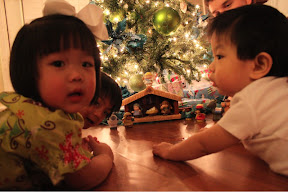 It was a special special time and we still have a hard time believing we are seriously Mommy and Daddy to these three little blessings! To finish off the evening, we all cuddled in the bed and read The Night Before Christmas and prayed a special Christmas Eve prayer before getting the kids all snug in their beds!