We headed out to Holt this morning. We took the last tote of donations. I supervised!
I got to meet one of the doctors at Holt. She could not get over how young I was (or looked maybe)!?
We had planned to ride a bus from Holt to Ilsan. At the last minute a guy came out and said that Molly Holt was at a meeting at the RC and we could ride with him over there in order to ride with Molly and her driver back to Ilsan. The RC is the reception center for Holt. Lots goes on here including, babies living here. These are a few that were all so very adorable and sweet.
I know that these two are not matched and and need parents open to some special needs...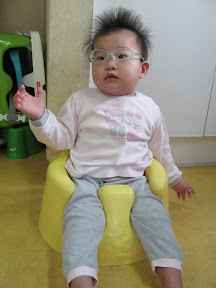 We weren't really scheduled to go up there, but I just asked and Mrs.Cho, the pediatrician who lives at ILsan, and she accommodated our request.
Next we rode out to Ilsan. I can't even put into words what a magnificent place Ilsan is. It is a 30 acre property with residences for those who don't get adopted! They raise them from the time they are there until. There is no aging in out. They encourage the kids and teach them ways to be self sufficient. Molly said that if you think a kid can't do something...they won't. There were many children there (younger) who are still eligible for adoption. I am confident there are some reading who might just find their precious next child here. Bottom line: Ilsan is a beautiful place filled with beautiful people..inside and out. It was heart wrenching to leave. I knew from the moment I met sweet little rolly polly that Ilsan had me at Molly Holt's front door. These precious children DESERVE forever families. They would thrive in them and have very little if ANY reason not to be give an chance at a forever-never-giving up-#1Fan Mommy and Daddy kinda love!
The first place we went upon arriving at Ilsan, was Molly's home.
And there....THERE, I found the sweetest little guy!!! It is my new mission to find him a forever family!!
I did not put the bow in!! He is 17 months old. Cruises furniture, repeated ball, gave kisses, threw the ball,snuggled on my shoulder, caressed my face (several times...melt my heart), played games on the IPad, etc. There is NO reason for him to be without a forever family.
This little girl played with my hair for about 10 minutes while the little rolly polly played in my lap! It was heaven!!
I can't even convey how sweet this little guy is!!
After spending some time at Molly's home, we went out to lunch with her right across the street. This whole opportunity just fell in our laps. As far as we knew, we were arranging our own transportation and being given a tour by a volunteer ....not Molly Holt (her father founded international adoptions from Korea) included. Once again, a great blessing! She even had to go back into town that afternoon and we rode back in with her and crew. Lunch was at a Korean BBQ place.
The Korean ribs were heated on coals right there at the table. The coals were brought at the beginning!
After lunch with Molly, a volunteer named Lydia, took us around the place! I was on a mission for many inquiring mamas! I have pics!
This is the workshop. The older residents make gift bags here. This is a way for the residents to work. Many love working so much they want to come in on Saturday and Sundays.
Bertha and Harry Holt's (Molly's parents) graves were up these steps...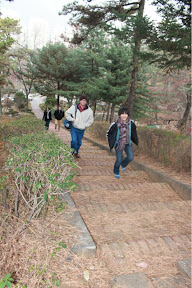 Then we were taken from house to house to find some kiddos I have friends wanting info on! There was no lack of kiddos. The following children all are waiting for families (at least no one could confirm otherwise) You can find out additional info on some of these kiddos at.. http://www.holtinternational.org/cgi/photolisting/region.cgi?region=NE%20Asia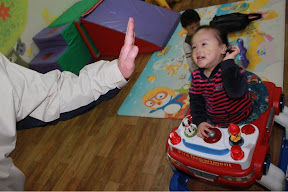 We found out the little boy below has NOTHING wrong with him. He was adorable and interactive and loving and jealous of anyone else getting attention. We asked Dr.Cho what was wrong and she said maybe he was hyper!! GREAT kid!! Needs a mommy and daddy and would be a blast!!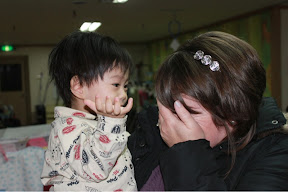 He went back and forth between all of us saying Omma! :)
This little girl has a story. We ULTRA bonded. Through the sucker, Cinderella bracelet, playing Miss Mary Mack, and letting her play with my hair and Iphone!!
When I saw the little guy he looked like such a dapper little dude!! He walked right in with his backpack and coat on and was great! I didn't get to interact with him much because we were leaving when he was coming in.
She was very timid!!
This little girl is blind and is a precious little bundle!!
I have to say....the little boys stole the show today!! There were all so sweet.
She wanted to follow us right out of her house :)
We had one last date night tonight! We parted ways with Brandon's parents after Ilsan. Brandon and I found something yummy...and sat and laughed and talked about our game plan for the coming days (and that would be....go with the flow cause what that will look like, we don't know) I know...profound huh?! Blame it on the jet lag.
We had to figure out a way to get our taxi to take us there on the fly. Smart phone to the rescue!
Tomorrow is the big day! Gotta rest up!