Yesterday, we got up and had breakfast. After that, we came back to the room and kid proofed it all :) Brandon and I prayed together(just like we did with our sweet Harrison) and then we prayed with his parents before leaving...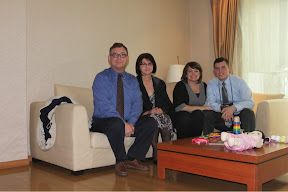 We had a million things to take with us, but I chose to pose with the diaper bag!
We had lunch at the famous Bulgogi brothers before our 1:30 appointment at Holt. We love Bulgogi and have eaten Korean the whole time here but not Bulgogi! We were glad to squeeze the yumminess in before the craziness and real fun began!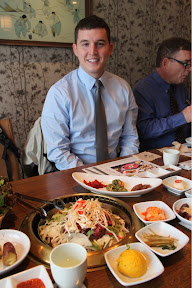 Bulgogi is marinated beef. It was cooked in the middle of the table with all kinds of onion and spice. Then you eat with lettuce or rice. They also had Plum Soda....YUMMMMMMYYY Good call MaryLeigh!
I was really not nervous at this point. After Monday's meeting I had kind of prepared for what was to come....as much as you can prepare. After lunch we headed to Holt. We arrived a little before 1. Omma was standing on the street with open arms. That meant one thing, our sweeties were already there. We walked in and they were right inside. Sophie didn't give us as crazy of a stare as Monday but she was certainly checking us out. Greer looked great. Not as tired as he seemed Monday. We went on upstairs as they had some things to do downstairs. We took a few pictures while waiting!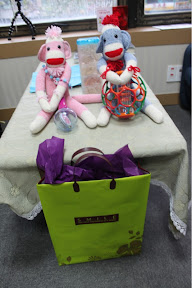 Even though we took our main gifts on Monday night, we wanted to bring something for the kids and we didn't want to have Omma leaving empty handed. Little did we know, she was taking home a one month old that day!! :) She is a very very very beautiful and generous woman. This is the baby she is taking home.
DJ also brought MaryLeighs son, Brodie's, foster mom up to see us! She was so sweet and teared up about Brodie. i told her we all love Brodie sooo much! These women love our babies so well before we are able to bring them home. After being at Holt 3 times this week and seeing the place swarming with babies and Ommas, and then seeing our Omma and all the hard work she has done and the hospitality she has extended even when she is going through so much it is clear.
Brodie's sweet foster mom.
Finally it was time.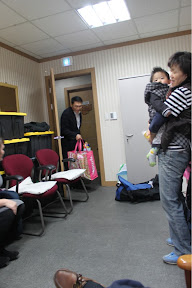 We only thought Greer was more awake!! He went right to sleep with a bottle on his side and Omma patting his back. He slept this way most of the meeting!
It was so sad to see Omma crying over him while she fed him the last bottle she would feed him. She loves him so much.
Since Greer was sleeping, she showed me his physical therapy on the monkey. It was smart and funny!
I went over my questions while Brandon won Sophie over with the Ipad.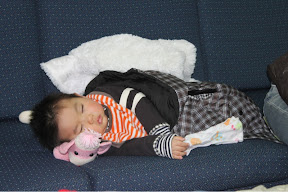 Sweet boy ...still sleeping!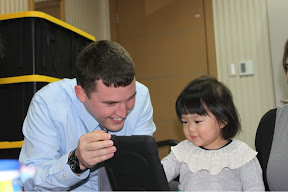 Oh yeah and the stuff!! We were blessed with A LOT of stuff from Omma and Appa. We haven't even begun to arrange getting it back, praying it all works out! I believe it will!! We have a large rolling duffel and a big tote that we took donations over in. We left one of the totes there.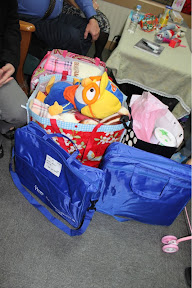 Included in the stuff, is the baby stroller. Sophie has the hang of it too!!
We signed the two pieces of paperwork required...Normally one but we are adopting twins :)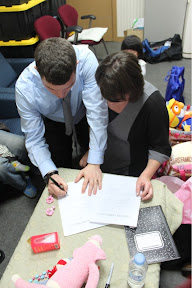 We took our last picture with Omma and Appa...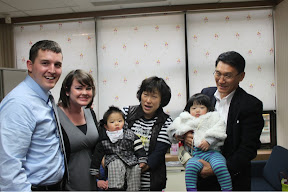 Next we went downstairs for a the pre-flight check up!
All was well.
Omma was talking to Greer again...tearing up, which made me tear up.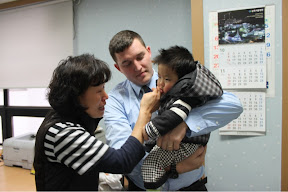 The sweet nurse got all 3 of our kids treats. She was so so so nice the three times we were at Holt. She is something special. It was so funny, all week (since we ended up at Holt 3 times) we were kind of famous. First of all, the office staff thinks Brandon is soooo cute!! DJ said she told all the ladies he was married with THREE kids ....lol! Too funny. I have to agree though, he is pretty handsome. 2ndly, everyone refers to our kids as "cute twin" and DJ or the nurse would tell everyone in passing..."twin mom" and they would all say..."ahhhhh!!!" and laugh or hug or clap! Too sweet.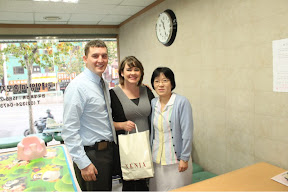 Sophie wanted to put Omma's new baby in her stroller and they let her for a second.
It was time to go.
Still clinging to the stroller...
Pushing her baby down the street...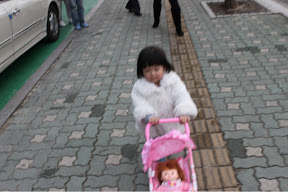 Omma telling me to put Sophie in the carrier to get her to sleep..
Daddy and Greet got right into the taxi. Sophie pushed that baby right into the taxi after them. Omma came right behind her and put her in the cab...
and THEN she realized all was not right in her world. Greer was just fine but looked terrified because of Sophie's screams.
It was a sad sad sad ride back to hotel. She didn't want us to hold her or touch her. She stood up by the back of the front seat and leaned up against the door...kinda like she was standing in the corner. At one point, her shoe came off so she stopped crying for a minute, picked up her shoe, lifted he leg up on the seat, and I put her shoe back on. After that, she resumed her sadness.
It was such a whirlwind. Grammy and G-Daddy had to get a 2nd cab and bring all of the stuff back for us. They have been so very wonderful to have here with us.
Once we got to the hotel, Sophie was done. She has not cried since.
She does quiver her lip when Greer gets upset and she also got a little timid at bedtime, but I just walked her in the carrier instead of laying her in the bed and that worked. She seems to not mind either Brandon or I, but she leans toward me to care for her needs....like she is still checking Brandon out. and Greer, surprisingly, has been a daddy's boy. It's worked out well. Our big hope was that each of them would at least tolerate one of us. I'd say we could almost say each of them likes one of us and tolerates the other. Thank you for your prayers, your thoughts, your notes of encouragement. I have been trying so hard to stay updated for my sake of journaling and for the sake of sharing with our cheerleaders!! I haven't had much time to edit, proof, respond much to emails, comments, or Facebook messages, but know that all of your support means so much and we ar so thankful the Lord has blessed our family with you. We are going to need so man prayers as we continue this journey, but we know that the Lord is faithful and His mercies are new each morning.