Our agency, Holt, factors in a city tour fee with your adoption expenses. Today worked out to be our tour day. It was truly wonderfu! Of course, I wish we had many more hours with our guide Meina.
She was delightful. I learned a little about her. She graduated from university last year. She teaches Hangul (Korean) to 10 year olds and says she loves the kids most of the time :) Her hobby is painting. She would love to go to America one day and she volunteers for Holt. She wants to adopt someday! We highfived after that discovery!! Then, I asked her if she had a boyfriend. She said yes. I asked if she was gonna marry him and she said NO! lol!! I asked if he was a good guy...she said not really and I told her she needed to get rid of him. We had too much fun together!!
During our walking, riding, siting, eating, etc....I learned some additional Korean words and phrases to use with the kiddos! I will share some of the ones I've learned and then those Meina taught me in a separate post.
Our first stop was the Gyeongbokgung Palace. It was so big and very interesting.
There was a beautiful view right outside the palace.
There was a guard standing at the entrance on our way out. He wasn't there when we came in.
They had a little ceremony just as we were leaving.
Once we were done at the palace we had to take 2 separate taxis to Insadong. BIG MISTAKE!!!! LeeAnn, Meinda, and I ended up being dropped off at a different location than the boys. None of our phones were working and it seemed like an hour before we were able to finally get texts to one another. In reality it was probably about 15 minutes. I was getting worried because Insadong is not just one area with one entrance. It all worked out though. Our guardian angel was watching out for us!! Meina took us down some windy allies to the place we were going to eat. We walked in and right behind us, a group of about 40 people busted right in and right in front of us. The owner of the restaurant told us reservations were fulll. We went and found another place. It was great!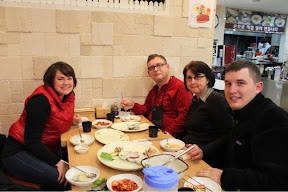 I don't know the name of it. We had Mandu, Seafood Noodle Soup, Lettuce wraps with pork (not sure of Korean name), and Bean Pancake (cornbread type cake with shrimp and such)! It was all really yummy. It was served family style. Then it was time to shop!! Boy did we!! I was a Mama on a mission. I still need to get some Peroro (the Korean equivalent of Micky Mouse maybe? at least Meina thinks so) but we have a few places yet to figure that out. I found one little wind up toy in Insadong but have a feeling there is a jackpot of Peroro toys I've yet to find!
We found a name chop place. I am not sure it is THE name chop place, but maybe. There were several more shops that looked similar with hanging paint brushes. A name chop is a name stamp. We have one for Harrison and we certainly want one for the twins.
I flipped through this book to find the type of stamp we wanted to have made. We picked a square shape since Harrison's is square shaped.
Then we picked the handle of the stamp. The lower shelf is less expensive! The lower shelf it was! :)
I picked a greenish one for Greer and a Pinky one for Sophie. It was a 2 hour wait and we decided to go back by tomorrow and pick them up.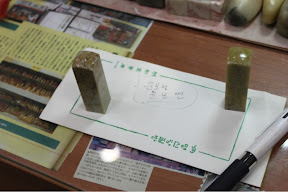 We were chilly and needed to rest our feet. We parted ways with Meina and stopped for some Starbucks! Yummy treat!
At this point, we decided to get serious about finishing up. We spent another hour walking back through Isadong and picked up a few more things. We took a taxi back to the room and are putting our feet up for a few before we head out for dinner!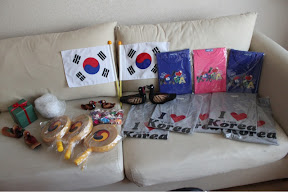 The items above are what I came back with. You'll notice the wrapped gift. I got tickled because I picked out a Celadon jewelry box for Sophie. I want to give it to her on her wedding day maybe(with special jewelry in it of course)! The shop owner asked if it was a gift and I told her it would be in about 20+ years. She wrapped it up :) I also left a special gift in bubble wrap as I don't want the recipient to see it quite yet! I got wedding ducks for both kids and our home. I got I Love Korea shirts for our whole family and then a few more peeps. I got drums for the kids and flags too!! Oh and I bought some little ornaments of teddy bears in Hanboks. I saw the most beautiful Hanbok that Sophie NEEDS. I didn't get it today, but might have to go back later this week to get it. I can't stop thinking about it!! I haven't figured out what I can get Greer for when he is grown up(in addition to his wedding ducks)! Boys are much harder to figure out when it comes that sort of thing! We still have Nandaemun to do. Meina was going to go there with us, but we took too long at Insadong!
Maybe someone can help me. I want to find the statues of the chinese characters for the Year of the Tiger, Rat, Rooster, etc. Where is that??!! Meina did not know. I thought it was close to the palace. Now it's dinnertime!