Last night, I put in all pictures I thought told the story well!! I want to include some additional photos from our day and evening yesterday that were left out. This is quick post so excuse any errors! Just wanting to share as much as we can!
We had our 1st complimentary breakfast yesterday. It was so yummy! They only do it Monday-Friday!
They had cereal, fruit, toast, boiled eggs (no thank ya!), juice, and coffee. It was plenty. Here are all the gifts before we bundled them up! Holt office gifts on the counter and foster families on the floor.
This was the 11x14 drawing we had done for the foster family and what I considered to be our big gift to Omma.
Our tech guy at church streamed video of the children 's musical to me yesterday morning. Harrison was in it and we have also been working with the kids for months on it. I was so happy to be able to "be there." I was so proud of them.
I wish I had video of Harrison specifically. He was an indian and included in two songs. He rocked the house ya'll!! I was VERY proud!! He danced and sang like a 4 year old! Our sweet little indian...
He is totally cheesing here...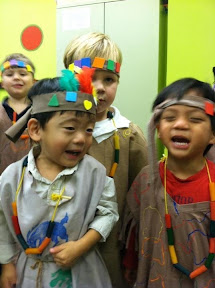 So thankful to have others helping me out and documenting Harrison for us.
After the skyping, we headed back to Insadong to pick up our name chops. This is the master crafter (I believe that is how they put it)
We walked passed where we could have stayed in the Penthouse :)
We found a Quiznos!!! We have eaten a surprising amount of Korean and have liked it!! Still haven't had bulgogi but maybe tomorrow(Wednesday) before our Family Day. We didn't have time to go to Namdaemun yet.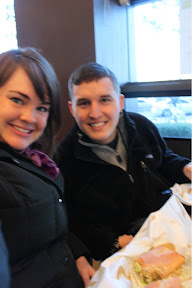 This was us hanging out at the Holt office waiting for DJ to wrap up a few things!!
Us and our sweet boy :)
Helping her with her collar :)
and she loved banging on the crawling toy like it was a drum!! More bonding with Daddy!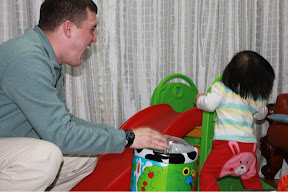 Loving looking at herself...
Greer was more interested in us taking pictures than the Peroro microphone! It wasn't long before Sophie had it! I am going to get DJ to teach me how to say SHARE and EASY in Korean :) I think the Sophinator is going to need them!
I wasn't exaggerating... She loves herself some birthday cake, candle, and song
Greer is gonna be our snuggle bug!!!
Off to Ilsan this morning!! :) Can't wait!