at the Smith house!! I felt all warm and fuzzy as we got the tree down Sunday night and decorated!! Greer baby had just fallen asleep so I put him on a blanket close by so he could be included too.
Sophie thought we should be quiet :)
Harrison and Sophie love the tree.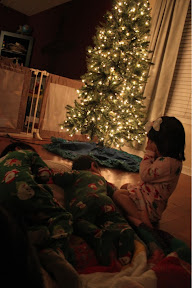 Greer woke up just in time to let me get a picture of the three of them! Pretty sure this is going to be the best Christmas ever!
Our Elf, Sawyer, is coming out tonight!!