If one picture could summarize this evening...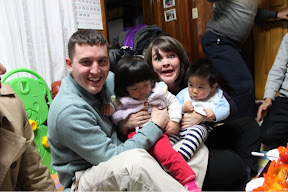 Wow! We have been away from the room now for around 8 hours. It's taking all I've got to get this post done. I am finally crashing! It may have to do with the intense emotions of this afternoon.
After gathering our gifts, donations, and cake we took from Paris Baguette, We headed to Holt around 2pm.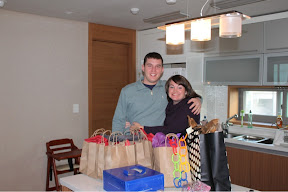 We went to meet the social worker who was going to take us to the foster families home. She said this was a very special invitation that not many foster families extend. We feel immensely blessed to have had this time with them. Since we were headed to Holt anyway, we decided to take our gifts and two of the donation bags with us. We couldn't fit all of them in our cab so one was left behind until Wednesday. If you sent me a care package, it has been delivered!
It certainly took all of us to get the stuff together, in the cab (barely, we held the huge rolling duffel across our laps in the backseat) and to Holt. But we made it!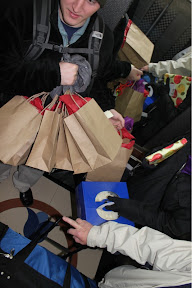 There was a slight moment of panic. I got in the cab and had the address pulled up on my phone. I handed it to the cab driver and THANK GOODNESS he raised an eyebrow. I handed him the Ilsan address. Um, nope! :) and if he would have just started driving we would have been far far away from where we needed to go. Ilsan is tomorrow. So Brandon took the cab driver back inside to our hotel lobby and the staff at the desk told him where to go. We weren't sure until we got there that he really knew! Thankfully I saw these doors and that sign on the window and walked in to see DJ right there!! I knew we were good to go!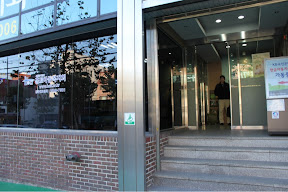 Oh and a little tip, I used my scarf to loop through the bags! Very handy to carry to Holt with!
Here is DJ and Brandon with 2/3 of the donations we brought!
Here are the things we took with us to give the twins...
and after a pretty good drive, we were greeted at the street by this precious sight! It only took my mama heart a few seconds to know that we weren't pulling one over on this sweet girl.
We followed foster mom up the stairs to their home. UMMM...please note, she carries the twins up and down these stairs (two flights still to see) every time they go out! I'd either be in really good shape or I wouldn't leave the house!
Greer was pretty chill. At the end, Omma shared that she was expecting Greer to cry and not have any part of it. He was GREAT! He loves to rub your face and play with hair. He is so so sweet with a great disposition!
I was able to wipe the scowl of her face first with food!! That's my girl!! It wasn't all roses from there. She was hot and cold....mainly hot!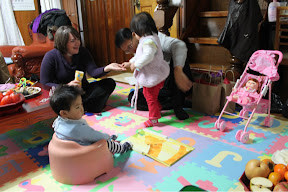 You'll notice Sophie was pretty content in Appa's lap. It took a lot of convincing to get her out of his lap....even for a few seconds. The longer we were there, the more she warmed up....but it was a very very very luke warm kind of warming up.
Omma made a beautiful scrapbook with the twins pictures from placement until now. Sophie really enjoyed looking at herself and brother.
They had their pastor come and pray a special blessing over the kids. Several ladies from the church came too. They sang songs and read scripture. It was very unexpected and so very moving.
Sophie chose to keep an eye on us during the blessing.
It was really hard to think about eating. The food was beautiful and delicious, but all I could focus on was the twins.
The cake we took was a hit with Sophie!! Omma had a birthday candle that had obviously been lit and relit. Well, they had 4 birthday parties for Sophie while we were there. Lit the candle,sang, and let her blow it out!! She loved it!! We might be adopting a daily birthday celebration for a few weeks to come!
I took a turn to feed Greer. He is a slow eater and has to have thinner foods. It was good practice.
Brandon started trying to warm Sophie up to him. He did a great job and by the time we left she was letting him get within a few feet of her. She would smile and enjoy him for a minute and then it was like she remembered, oh yeah....I don't like him yet! She was similar with me.
She was walking around feeding her baby and then she turned to all of us with her finger over her lip to say...shh!! OH.MY.WORD! No lack of sassy going on with this one!
Greer loved this book! Omma has two brand new ones she will send home with us! yay!! I asked what their favorite songs were and she said they were in the book..one problem, it's in Hangul!
A little picture story of Daddy bonding with Daughter...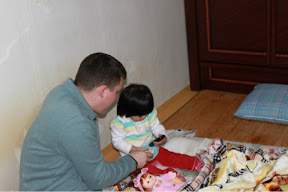 All of us!
One last birthday party before we went!
They bundled them both up to take out to the street to tell us bye!
and Sophie even leaned in for this kiss :)
Dinner with the social worker and a family in town.
Big thanks to DJ for saying yes to the foster families request of having us in their home! She went out of her way to take us there and then bring us back. I can't imagine how much harder it would have been on everybody Wednesday had we not done this! Wednesday will still be hard but at least we have a foundation no matter how small.
The meeting was a rush of activity. DJ and I had talked about us getting our questions out of the way today, but my mind could hardly function for trying to gain a little trust from our girl before Wednesday. I felt great about Greer and was surprised with the foster mom said she expected him to be upset. By the end of the evening, I felt great hope for gaining their trust, but I can tell, it is going to be little baby steps!
That's all for now.I have so much more to share ...thoughts and feelings, but I must get some rest! Only two more sleeps until they are in our arms for good!!