I am pretty sure this post will be most interesting to those who intend to travel to Korea at some point.
I am not very familiar with Seoul's "areas" so I can't say where this is. I will say the World Cup Stadium is a few blocks away if that gives anyone any better idea.
The DMCville was a little over an hour form the airport with rush hour traffic. Holt arranged a driver who brought us straight to it. It is very quiet and we haven't seen or heard many others the entire time we have been here. Our room is so clean and a WONDERFUL value at $160 per night. It is so spacious and we know that when we have the twins, there will be plenty of room for all of us. Very roomy, super clean, and nice. I took pictures starting from the entryway throughout. How about I give you a tour? :)
First you take an elevator to the 4th floor. I believe Holt has like 2 condos here or something like that?! The elevator takes you to a hallway where there are two rooms. Ours and then another beside us. You walk right into the "shoe area" (pardon my own creative terminology)
To the left, there is a closet with sliding doors. You just put your shoes right in there. They also have two umbrellas for our use in that closet. Next, you slide the pocket door open to enter into the spacious living area...
You can see that if you go straight, you'll walk out onto a balcony area. It is not open, but you can open the rectangular window on the top left to let in air.
The Kia dealership is the view...
If you are standing in the sliding door area from the shoe room, you can walk in and take a right to get to the other part of the condo...
Keep walking and on the right you'll find a bathroom...
across from that bathroom is the smaller bedroom with smaller bed...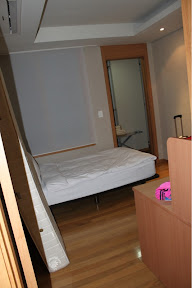 You'll notice the extra mattress leaned up agains the wall....this is because they have been so kind to accommodate our four adults when reallly it seems this condo suits 3. Brandon's mom so generously offered to sleep on the extra mattress and we made it up so she is good to go. Gary is in the bed that is already in there. Straight through the room is a good sized closet...
There is more space to the right. It is pretty deep. Not many hangers here. The ironing board is a plus!!
Ok, back out to the hallway....if you keep going straight past this bedroom and bathroom you'll walk into the kitchen area...
The door in the corner by the highchair leads to the washer/dryer combo..
We will be taking advantage of this! :) If you go into the door right across from the refrigerator on the other wall, there is the big room (our room) We would normally kindly offer better sleeping arrangements to the parents, but with the 2 kids we'll be adding in a few days, it just makes sense this way.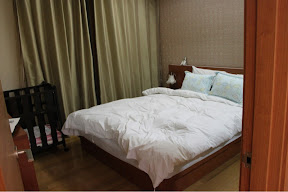 The crib was in the kitchen but we rolled it into the bedroom. The bed is like a ROCK but the duvet and pillows are so comfy it makes up for some of the hardness. Behind those drapes is another balcony...
Then across the room is another set of doors leading to a super short hallway with closets on both sides. I have already unpacked our goodies and fit the suitcases inside them now.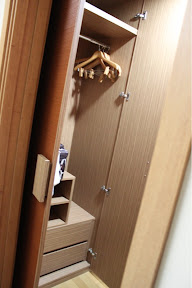 Beyond the closets is another bathroom...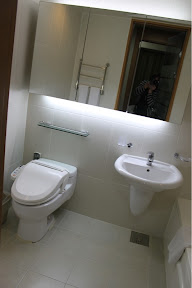 The toilet is certainly more accommodating than the ones we have back home!!
We initially had hoped to stay at the Somerset, but we are actually thrilled with the little setup we have here. I know we aren't super close to any subway stops but with 4 adults, a taxi ride will be less expensive anyway. We will be riding the Subway back from Ilsan so we will get to experience the Subway at least once. Taxis are fine by me!! Very easy!
That finishes up my updates for today!! I am super drowsy feeling so I am going to join everyone else and catch some zzzzz's!! I'll be posting often! This trip has been amazing already and I want to document/share it all!! Oh and at this rate...I won't be editing anything too much. Just getting it all down...and one day when I have time (when the kids are in college maybe?! lol) I'll come back and fix any errors! Blessings to you all!!