We had wonderful day that included a trip to Seoul Tower! We started out trying to get the twins to nap and then leaving after! At 2pm they still hadn't successfully STAYED asleep :) but they were both relatively happy anyway.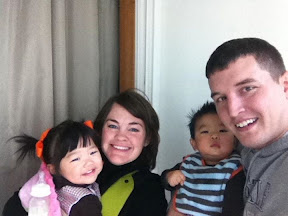 I will post about our last day more after we get home. We came home from Seoul Tower and had dinner ordered in from the restaurant in the DMCville.
The twins had some serious bathroom issues this evening. Grammy saved the day and found some medicine at the pharmacy, but it was a rough few hours as they were both struggling with trying to go. We had pumped them with apple juice and prunes for Greer. For Sophie, the medicine worked quickly and for Greer, not so much. Poor buddy. They are peacefully sleeping now. I have packed all of our things and am going to join them. Please pray for our trip home. For the twins tummies for our ONLY 2 hour layover in Chicago and having to go through immigration with 2 babies in that amount of time. Oh yeah, and for our sanity!! It still seems to be the guys agains the girls as far as which baby is enjoying which parents company. We are just thankful for the time being that each of them likes one of us! We will work on the crossover soon :) Just get us through this airplane ride!!