We headed to the airport at 7:30am to catch our 11am flight! The timing was just right.
This is us in the van to the airport!
This is us at the desk and me getting irritated that the same exact thing that happened to us on our way back from Taiwan was happening again. The lady behind the counter had no clue what was going on and could hardly speak English. Meanwhile our kids are getting antsy... Including Greer who was strapped to Brandon's chest who is trying to get these people to understand what's going on.... Sheesh!! I seriously thought I was gonna lose it and we were minutes in!! Good start right!?
After, Sophie screamed like she hadn't since our cab ride back from Holt. She screamed, arched her back, hit at me and on and on... all the way through the sea of people staring at us ...watching us white people take these precious babies to America. It was perfect timing to mortify a totally new adoptive parent. The reason she was so upset is because during our forever long check-in desk ordeal I let her get down. Then we had to get in two more long lines and she didn't want to be confined but I couldn't communicate with her to stay with us so I had to carry her. I feel like she would have stayed with us if I knew what to say :) Some in our party thought it was a good trade off because, as result of her lung power, airport angels appeared out of nowhere to get us outta line :) and shuffle us to the front! As the Mama, I can't agree :) she calmed down at the gate. We had about an hour to kill.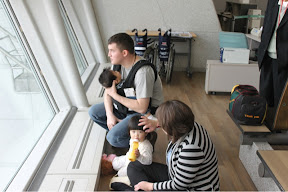 We walked up and down the people mover dozens of times.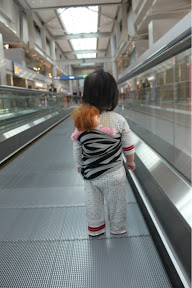 I was hoping that would lead to this ...but this was all too short :)
But Greer literally was so good the first 8 hours of the flight...He and Brandon just chillaxed!!
Sophie wasn't bad per-say! She was just sooooo busy and very wallery...like she wallowed all over me and her seat. She loves to put her feet all over things and people and kneed like a cat. She spilled things, jumped up and down so hard once she made herself throw up,wouldn't wear the ear phones to watch the tv, wanted up and down etc.THANK goodness the flight attendants only made us follow seatbelt sign rules upon landing! :) She screamed bloody murder again as I restrained her completely for 30 minutes.
Oh and we had an extra seat!! We couldn't afford one, but were blessed to have one bulkhead...God is good is all I can say.... The flight seemed so full!! We took lots of trips to the bathroom... I paced the aisles with her in the carrier and then she thought it was cute to stick her little feet out as far as she could so while I walked I had to hold her feet down so people wouldn't get whacked. We spent a lot of time with the flight attendants.
And best of all, we stowed her baby stroller from Omma in the carryon and she pushed it a while too. She would run right into people's feet, the flight attendants,and people in the aisles and would get so mad if I redirected her :) I think she thought she was a traveling diva. Haven't seen her act that way since then or before :) The hardest part for me is it was tough to expect too much when she can't understand me. I have a large list of words I use with them but I found out on flight day I needed more:) we did what we needed to get through and as long as she was able to do what she wanted or at least we could convince her she wanted to do it, we were good. It was just exhausting. Especially because aside from the kids comfort we wanted those around us not to be any more inconvenienced than necessary!
Greer cried hard the last two hours of the flight( pretty sure it was still tummy issues) and then all through Ohare(prolonged by the mistake that United made on the kids lap tickets... that sent us in a frenzy.) He kept crying until we were finally able to take him out of the carrier after security and lay him on the bench. He fell right to sleep. I felt horrible for him so that is what ultimately led to me crying too, but that is what got us to the front of the line in security. I was so relieved he was able to fall asleep. We boarded our flight to Nashville with only enough time for a bathroom break. Greer was awake and happy on that flight and Sophie slept the entire time. We were all more than thrilled to be on the ground in Nashville!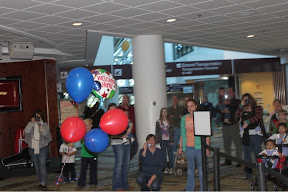 I was so so so happy to hug my baby boy!!
And my mom!!
Then I saw this huuuuuge sign our church family signed!! I cried some more!!
You can't tell because Sophie was in the carrier, but the kids matched :)
I stinking love Harrison's face in this!! Lol!!
Greer trying to fall asleep again... Poor baby!!
Sophie said... "shhh"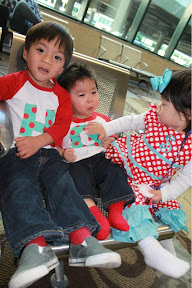 We loaded up. I was not thinking Sophie was gonna go for the car seat but we made a big deal out of putting the other two in and she did it! She and Harrison were hysterical on the way home. Greer cried for a bit but did fall asleep quickly.Brandon and I were just trying to keep our eyes open and were so excited and could hardly believe that we were seriously driving home with our THREE beautiful children that were certainly heaven sent.
We went home and gobbled up Thanksgiving leftovers in the fridge from my family ... Can't put into words how much of a party was had in our mouths! It was the BEST meal to come home to.... I think anyone adopting or having a baby should request this as their coming home meal! Then we had a great big nap!! All of us and it was great!!