Once we got back to the room, we just sat the twins on the couch and we all checked each other out. Sophie warmed right up.
They both needed diaper changes so I changed their diapers and put on their first "matching outfits" Kamino style two pieces are as close as I could get! Then, Brandon got Greer to sleep just by laying down with him. I walked Sophie in the carrier...
pretty much went right down to the lobby and by that time she was asleep...came right back and put her down with brother.
Greer woke up and was mad!!! He would not ear or go back to sleep. For about an hour he screamed a sad scream I kept saying over and over, kwinchana (it's ok) and oolgeema (don't cry) and I made up a song with Serongheyyo (I love you), PoPo (kiss) and Ahna (hug) in it and he liked it. He was kind of touch and go all night and at first I was worried about him not eating and when we did try to feed him he would spit it out and make a horrible gurgling noise. Once Sophie was up though, she took a bottle and he took his bottle watching her take hers. From that moment forward, as long as the 4 of us were together he was fine too. If one of us left the room, he would get upset again. So we are a very tight unit for now :)
This is right after changing diapers and clothes.
At this point, Grammy and G-Daddy had gone out to give us some time together. They went to Homes Plus and Outback. The kids were great while they were gone. I was even able to manage them for 5 minutes alone while Brandon went to the front desk to order pizza.
A little while after bottles and playing we headed to the kitchen for dinner. Greer had a whole container or babyhood, some of the fruit in a tube, and he ate the Bap(rice) Sophie wasn't interest in. Sophie had some yogurt but wasn't up for much else. She loved sitting on the stool and swirling and smiling and talking even though we didn't know what she was saying...it was adorable! Greer would just watch her and giggle!! They love each other!
I had a fruit bar I tried to give her. I tried to open it with my teeth. She reached out for it, and I gave it to her, she put to her mouth and tried ripping it open too.
We decided it was bath time. They both loved it. I brought bubble bath. Sophie didn't want to sit down, she wanted to play.
Greer was not happy to get out, but left him in as long as we could. He was wobbly.
Sophie had a blast ripping her towel off and jumping on the bed.
Then, it was matching PJ's!! The first thing I bought the twins...months ago on clearance!
We propped Greer up and did some of his physical therapy while the Ipad was the center of attention.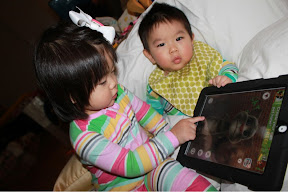 We found some free Korean Kid Apps. So far, they've been a hit! Greer responds very well to the Ipad too!!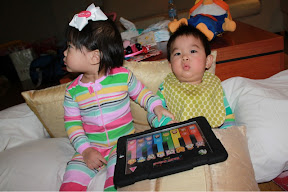 We decided Greer was for sure tired. Sophie wasn't quite ready to wind down and I was still worried about her being hungry. Brandon wanted to be in charge of which ever kid was most likely to go to sleep!! Greer it was! Greet loved reading the musical book that the Foster Mom sent. He loves to rub on Brandon's face and he likes to make sounds back at you when you make a sound. He is super sweet, but I can tell he knows what's up and has been upset on and off.
I took Sophie with me since I finally had a chance to eat! What do you know, after trying all the food the foster mom sent and more, she went for the pizza. 1 1/2 pieces to be exact. Again, she mimicked me. I would put mine down on the pizza box lid between bites. She would throw hers down and wait for me to take another and do the same! It's like she has had pizza a whole lot! Maybe she has!! I didn't even have to cut it, she would take small bites and hold it by the crust.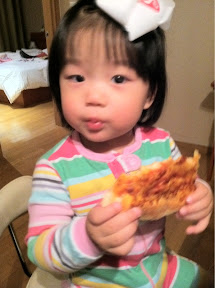 Sophie was my little sidekick. She helped me wash bottles, eat pizza, got potty :), and fold laundry. Not sure I was expecting her to ooze sweetness so soon based on our meeting Monday, but I think all 4 of us adults here can vouch, she is a sweety pie..and smart one at that.
Greer went to sleep pretty quickly...he got a little upset, but Brandon sure has him figured out. I put Sophie in the carrier and within 10 minutes she fell asleep, I tried to lay her down but she started crying hard. 1st time since the taxi. Within seconds of being picked up, she was fine. I went out on the couch and we skyped with Harrison and Pam. I put her blankie between us and about 5 minutes after talking with Harrison she was out for good!
and at 6:52am, this is the scene in our bed.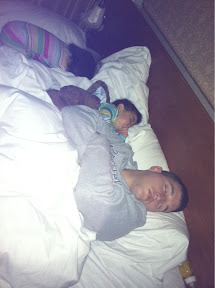 They both woke up for a bottle and went back to sleep. I think Greer woke up twice. Im not sure but some certain parents may have gotten a formula bottle and whole milk bottle mixed up when manning their baby stations in the dark. The good news is Sophie was the only one who had a bunch of hers and she sucked that formula down! :) After being blessed to experience Sophie's sleeping ballet moves up close and personal, I decided to get up at 4am to give everybody some more room, to be sure I got a shower, and so I could update everyone here!! So far, better than we could have hoped! VERY busy, messy, and crazy, but we LOVE it!
I know Harrison and the kids are going to get along VERY well, just after a day we can tell Sophie is a good playmate and Greer loves to be entertained by his sister...Harrison will just add to it. When we skyped with Harrison last night, he was really happy and didn't seem to mind that I was holding another baby. I know there will be adjustments but I am more hopeful after getting to know everyones personality even if it has only been a little less than a day!! A mama can hope!